Division News
Center for Students in Recovery
Help us spread the word that our recovery

meetings and events

continue through the end of the semester

and into the summer

.
Counseling and Mental Health Center 
Our team hosted the annual Take Back the Night on April 28 to close out Sexual Violence Prevention Month events. The event raises awareness about sexual violence prevention and includes a survivor speak-out and resource fair.

We hosted Fuel Up for Finals on May 2 to support students through the end of the semester. Our team handed out sleep kits, popsicles and educational materials on preparing for finals.

Please let students know that we have virtual and in-person appointments available and will continue our services through this summer. Any students needing assistance should call us at (512) 471-3515 or

visit our website

.
Our Horns Helping Horns team painted trees as part of "The Blue Trees" installation in Pease Park for their service project on April 1. They are hosting a Horns Helping Horns end-of-year celebration for students and program mentors on May 10 in partnership with the Office of the President.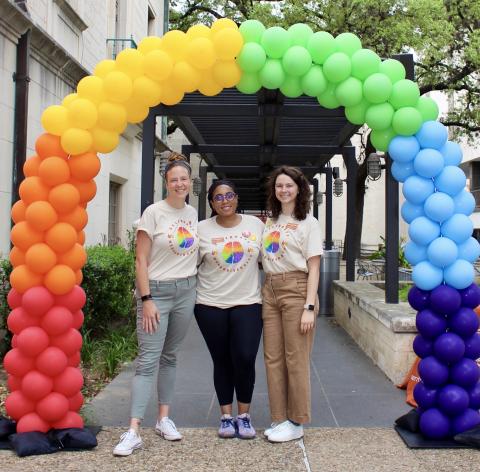 Michelle Adler, Ashley Richardson-Minnitt and Katharine Sucher (New Student Services) at the Neurodiversity Mixer
The Longhorn TIES team celebrated neurodivergent students during April with a series of events for Autism and Neurodiversity Acceptance Month. Events included a mixer event, activities and panel discussions.

Our staff that support first-generation college students took students who live in the First-Generation Living Learning Community on a bat boat tour on April 20 and are planning an end-of-semester celebration on May 10. They're also helping with the First-Generation Graduation on May 18.

August Orientation will be 100% virtual. Transfer students can attend Aug. 15-16 and freshmen Aug. 16-17. All students will register for classes on Aug. 18.

We are also in the early stages of planning Longhorn Welcome Aug. 19-28. The website will be updated soon with more information as the schedule is confirmed.
Office of the Dean of Students 
Sorority and Fraternity Life coordinated the annual Sorority and Fraternity Life Awards on April 20. The awards recognize outstanding Greek individuals, chapters, councils and advisors based on their 2021 achievements. Check out the winners.
Katie McGee (Office of the Dean of Students) giving the welcome at the Responding to Student Emergencies and Behavioral Conduct Symposium.
Our Student Conduct and Academic Integrity and Student Emergency Services teams hosted the Responding to Student Emergencies and Behavioral Conduct symposium on April 26. The half-day symposium educated academic and student deans, as well as advising directors, on trends, practices and strategies for addressing students with personal emergencies and/or student behavior concerns.

Our Student Activities team celebrated staff who advise student organizations at the Advisor Appreciation Luncheon on April 29. If you serve as a student organization advisor and you were unable to attend the event, please contact Student Activities for your token of appreciation.

They will also honor students and student organizations at the 16th Annual Evening of the Stars on May 3.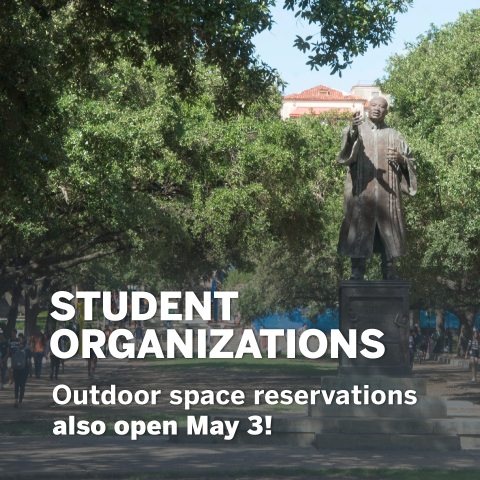 Departments, offices and student organizations can now make space reservations for the fall semester. This reservation process includes campus outdoor space and the University Unions' indoor space.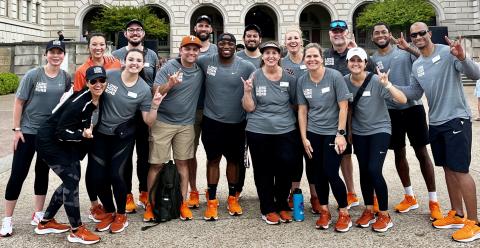 Recreational Sports staff at Longhorn Run
The Texas Parents Ambassadors Council celebrated the 2021-22 Outstanding Student Award winners at the April 1 luncheon.

Listen

to our interview with the two award winners and

read

more about the four finalists.

Our campus tradition of Family Weekend returned in person April 22-24 for the first time in three years. We made a major conceptual shift --

moving from a fall semester "welcome to campus" event to a springtime event celebrating all that campus has to offer

. We welcomed over 3,500 students and their families for dozens of events.

In

mid

-

May

,

our team

will

mail

the

New

Parent

Guide

to

9,000

freshman

families

.

This

magazine

is

designed

to

be

a

resource

to

introduce

new families

to

university

resources

and

policies

.

A

digital

copy

will

be

available on the Incoming Families

resource page

.

The first

Family

Orientation

session of the season is on June 6. Family Orientation

is a

one-day program aligning with New Student Orientation that introduces families to campus life.

Encourage new parents and families to sign up for a Texas Parents Association

membership

. There are two types of memberships: complimentary and supporting.
The public information team had a retreat on April 29 to strategize communications and marketing for our department and the Counseling and Mental Health Center.
The COVID-19 Symptomatic Testing Center will close at the end of May. Students experiencing symptoms of COVID-19 will still be able to be tested by appointment.

If you know  students who need health coverage through the summer, please encourage them to enroll in the

Student Health Insurance Plan

.
We celebrated our nearly 800 student staff during Student Employee Appreciation Week April 11–17.

Our residence life team held a separate celebration for resident assistants and student leaders on April 25.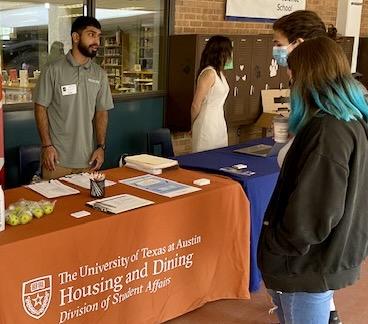 Tibin Thomas (University Housing and Dining) talks with prospective employees at Crockett High School.
Our human resources and dining teams visited Anderson and Crockett High Schools on April 13 and 20 to promote and discuss career opportunities.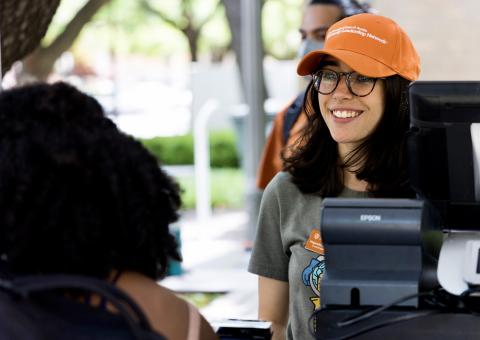 Alejandra Marquez (University Housing and Dining) chats with a UT Farm Stand customer.
Our sustainability and Forty Acres Catering teams hosted the Burnt Orange and Green Fair to celebrate Earth Day on April 21. The final UT Farm Stand market of the semester was held on April 20.

Our facilities staff held a team day on April 26 for professional training and activities, a staff appreciation lunch and afternoon games.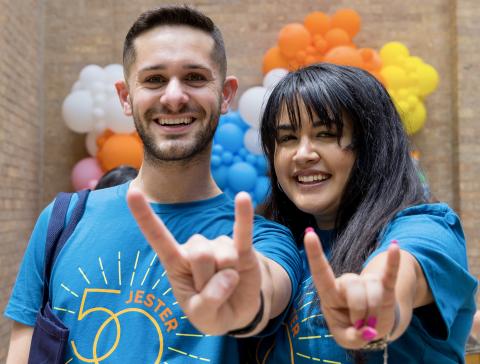 Jason Skidmore and Connie Rodriguez (University Housing and Dining) at the Jester Center 50th birthday celebration
We held a 50th birthday celebration for Jester Center on April 28 at Jester Plaza. The celebration was originally planned for 2020, but was postponed due to the COVID-19 pandemic.

The preliminary rates for on-campus residence halls, 2400 Nueces, Dobie Twenty21 and University Apartments were posted to our website April 12.

Starting this fall, students can access our new

Family and Friend Expanded Roommate Option

that allows them to select any university enrolled student as a roommate regardless of their gender, sexual or gender identity.
Our advisory council awarded two students with the J.J. "Jake" Pickle Citizenship Award and the 2022 Pal – Make A Difference Award on April 22.

During Family Weekend, staff at the Texas Union welcomed Longhorn families to the theater for a special screening of Encanto and at the Union Underground for bowling. 

Our Campus Events+Entertainment team coordinated Texas Revue, the university's largest student talent show, on April 23. The event was held in the Shirley Bird Perry Ballroom due to construction in Hogg Memorial Auditorium to upgrade the building. 

Our last Board of Directors meeting of the semester was April 29.
Vice President for Student Affairs
Thanks to the Division staff who participated in our Dinner with 16 Longhorns events this semester.

Our final dinner of the semester was held on April 20 and the program was featured in The Daily Texan on April 22. We look forward to hosting this event over the summer.

New Staff Welcome 
Our office introduced new Division-team members to campus during New Staff Welcome on April 27. 
At the final Office Hours of the semester on May 9, we'll discuss the university's Strategic Plan and hear an update on the Division Strategic Plan.

The Division assessment team is compiling 2021-22 department and unit assessment results and identifying one outcome to improve and assess in Fall 2023. Department and unit assessment plans are due Oct. 1.
Standouts
At Longhorn Run on April 23, Kayce Armstrong, Office of the Dean of Students, placed first in the 5K UT Faculty/Staff division/category (Female) and Robyn Dodge, Recreational Sports, placed second in the 10K UT Faculty/Staff division/category (Female).
Justin Galicz, Recreational Sports, created the design of a Team RecSports shirt and won third place in the NIRSA apparel design competition at NIRSA 2022, the organization's annual national conference.
Todd Lawrence, University Housing and Dining, was elected chair for the UT Staff Council upcoming 2022-23 term.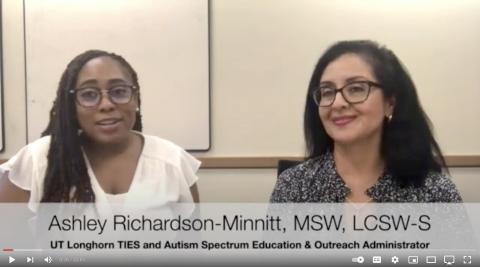 Ashley Richardson-Minnitt (New Student Services) with Mary Ann Hughes (Special Family Transitions)
Ashley Richardson-Minnitt, New Student Services, was featured on the Special Family Transition YouTube series talking about the support Longhorn TIES provides students on the autism spectrum.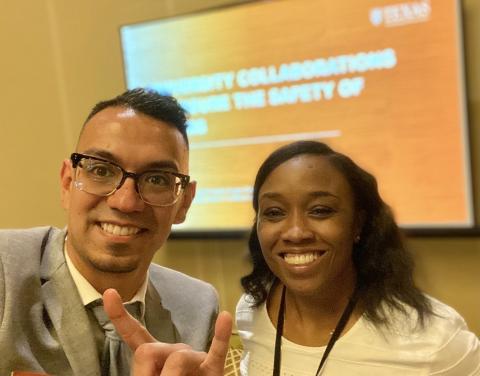 Robert Valdez (University Housing and Dining) and LeeKeshia Williams (Division of Diversity and Community Engagement) at the 2022 Higher Education Risk Management Conference
Robert Valdez, University Housing and Dining, presented "University Collaborations to Ensure the Safety of Minors" at UT System's 2022 Higher Education Risk Management Conference on April 13.
The President's Staff Awards
President Jay Hartzell honored the 61st Annual President's Staff Awards recipients on April 20. He honored two Division staff members: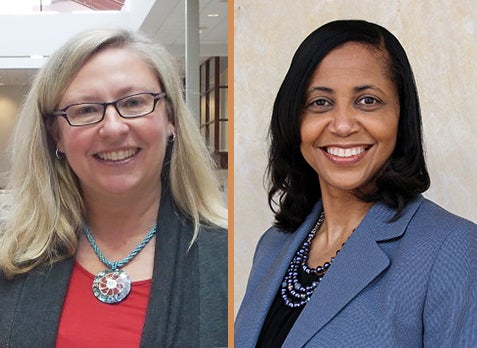 Darci Doll and Celena Mondie-Milner
Darci Doll

,

Recreational Sports

, received the Outstanding Staff Award alongside 29 other staff members at the university.

Celena Mondie-Milner

,

New Student Services

, received the Outstanding Supervisor Award alongside three other staff members at the university.
On May 3, the president and executive vice president and provost recognized faculty and staff award recipients:
Charlotte Canning

,

Vice President for Student Affairs Office, received the

Civitatis Award

, awarded annually to a faculty member who has shown exemplary campus citizenship throughout a career of service at the university.

Former VP for Student Affairs Gage Paine received the

Arno Nowotny Medal

, awarded annually to a retired staff member from the Division of Student Affairs who rendered meritorious service to students during their career at the university.
Staff Service Awards
The university is lighting the tower on May 12 for the 56 Division staff members with a combined 925 years of service to The University of Texas at Austin. Congratulate your Division colleagues below!
Counseling and Mental Health Center and University Health Services
Tracy Brzozwski, 15 years

Laura Dupuis, 10 years

Tara Cutler, 15 years

Karen Lee, 40 years

Abby Simpson, 10 years

Gareth White, 10 years

Kristen Pearson, 10 years
Office of the Dean of Students
Phillip Hebert, 20 years

Steve Preiss, 25 years
New Student Services
Recreational Sports
Randall Ford, 30 years

Adrienne MacKenzie, 15 years

Clifton Murphy, 20 years

Van Nguyen, 10 years
University Housing and Dining
Gwendolyn Brown, 15 years

Nesanet Belay, 25 years

Enrique Castellanos, 15 years

Pedro Del Rio, 20 years

Richard Dixon, 15 years

Veronica Giavedoni, 10 years

Teresa Gonzalez-Gallardo, 10 years

Luis Gonzalez, 10 years

Mateo Gutierrez-Gonzalez, 10 years

Sherry Flint, 15 years

Hilaria Galicia, 15 years

John Rykowski, 10 years

Maria Salas, 20 years

Anabel Sanchez Rodriguez, 15 years

Ramiro Sanchez, 20 years

Todd Lawrence, 20 years

Denise Locue, 15 years

Jessica St John, 35 years

Jennifer McClain, 25 years

Jackie McKay, 20 years

Christopher Triche, 15 years

Edwin Vazquez, 20 years

Maria Velazquez, 15 years

Flor Patino, 15 years

Charlene Peeler, 15 years

Laurin Pelchat, 15 years

Leigh Yaklin, 15 years

Denise Zuniga, 15 years

Justin Jaskowiak, 10 years

Adrian Reynoso, 10 years

Juan Reynoso, 15 years

Jesus Reza, 20 years

Maria Rivera, 10 years

Dorothy Ruiz, 10 years
University Unions
Don Duty, 25 years

Claudette Campbell, 25 years

Joe Gonzales, 10 years

Selim Sakaoglu, 15 years

Christopher Lueck, 25 years

Dylan Smith, 10 years

Jennifer Zamora, 10 years
Vice President for Student Affairs
Newsletter Archive
The Influencing the Longhorn Life Staff Newsletter is distributed via email to Division of Student Affairs staff. View newsletters from August 2017-present. Take a look at archived content from August 2012-August 2017.