Division News
Center for Students in Recovery
For the first time since 2019, the Center for Students in Recovery brought back the Sober Tailgate before the UT-West Virginia football game on Oct. 1. They welcomed students, staff and friends with partner University High School. The center, located in Bellmont Hall, got a fresh coat of paint in vibrant colors.
Counseling and Mental Health Center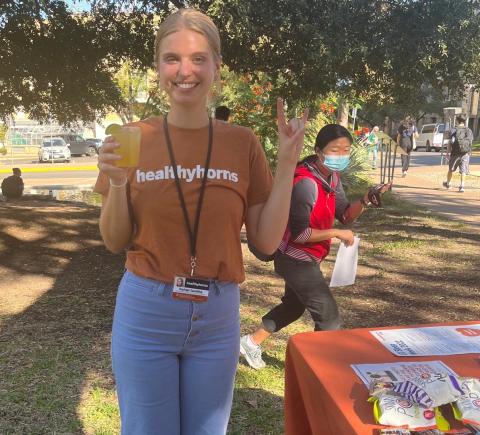 Kayleigh Spaulding (Counseling and Mental Health Center/University Health Services) at Sleep Week
The Longhorn Wellness Center, a unit of the Counseling and Mental Health Center and University Health Services, presented the inaugural Sleep Week, Oct. 3-7, to educate students on the benefits of sufficient sleep. The team distributed 400+ sleep kits at 11 different events around campus. They also promoted Relationship Violence Prevention Month at 50 events and raised nearly $1,000 for the Voices Against Violence Survivor's Emergency Fund.
The first-ever Mindfulness Retreat offered yoga and meditation exercises on Oct. 22. Mindful UT collaborated with University Health Services, Counseling and Mental Health Center, SHIFT and the McCombs School of Business Masters in Business Administration Program Office. They also partnered with the Living the Longhorn Life programming team and UT Farm Stand to host Mid-Semester Recharge on Oct. 13. The event featured crafts and meditation.
Beginning with Spring Orientation in January 2023, New Student Services will centralize New Student Orientation and Family Orientation internal operations. This realignment will further enhance the orientation experience by streamlining messaging and allowing our team to develop programming for students and families simultaneously.
Registration for Spring Orientation (virtual program) opens on Nov. 9. Students have the option to attend in-person social events, while Spring Family Orientation will feature a series of asynchronous videos. Families can join some of the virtual student programming to interact with campus departments and resources.
The Transition Initiatives team launched Bevo Buddy! program earlier this month. Bevo Buddy! pairs a student leader with an incoming freshman or transfer student. They went to Boo at the Zoo on Oct. 21 and the team took the First-Generation Living Learning Community residents to the Austin Public Library on Oct. 2.
Ashley Richardson-Minnitt (New Student Services) and Elizabeth Doyle (University Housing and Dining) at Fidget Friday
Longhorn TIES hosted Fidget Friday with University Housing and Dining on Oct. 7 to learn how fidgeting helps with neurodiversity. Horns Helping Horns went rock climbing at Gregory Gym on Oct. 14. Off-Campus Resources educated students about the roommate portal and helped students cultivate relationships for potential roommates at Hocus Pocus Roommate on Oct. 27. The SHIFT Makers served Halloween-themed mocktails.
The TURF, a brand-new functional training studio located at the Recreational Sports Center, is now open for drop-in use. The space features functional training equipment including core bags, kettlebells, medballs, power bands and tubes.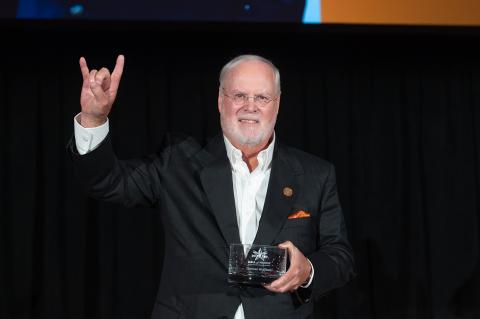 Tom Dison being inducted into the RecSports Hall of Honor.
The department inducted three groups and 11 individuals into the 2022 Recreational Sports Hall of Honor, including recently retired Tom Dison, former senior associate vice president and director of Recreational Sports. The evening event, held in the Gregory Gym Arena on Oct. 29, also celebrated the 25th anniversary of the "new" (renovated) Gregory Gym. RecSports alumni participated in the annual Friends of RecSports Bob Childress Classic on Oct. 28 at Grey Rock Golf Club.
The first RecSports Recess of the fall term featured pickleball and table tennis at Gregory Gym Plaza on Oct. 26. Participants also enjoyed prizes and giveaways. The Fitness + Wellness team led students and RecSports members on the annual Ride Across Texas cycle challenge on Oct. 13. Participants pedaled to the beat of themed music and accumulated 1,027 miles, exceeding the goal of 862 miles, the longest distance, east to west, across Texas.
The Texas Parents Ambassadors Council Fall Meeting brought together existing and new council members on Oct. 21.Vice President for Student Affairs and Dean of Students Soncia Reagins-Lilly hosted a panel of Division of Student Affairs experts – Marla Craig, Counseling and Mental Health Center; Celena Mondie-Milner, New Student Services; and Heather Miller, Vice President for Student Affairs Office.
Staff Merit Award nominations will open soon. Staff can nominate other Division team members who have worked three consecutive years in the Division influencing the Longhorn life, supporting student success, strengthening services and inspiring others.
The Texas Parents Brick Paver program opens Nov. 1, offering the purchase of 4x8 and 8x8 brick pavers laid at the Student Services Building as a tax-deductible gift to the university.
During the annual flu shot campaign, staff administered 8,129 flu shots at 15 clinics on campus. Staff, faculty and students who weren't able to get their shot during one of our clinics can make an appointment to get one at UHS.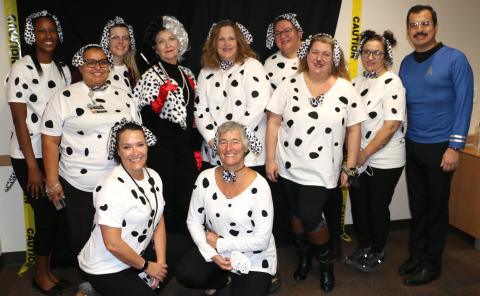 University Health Services Gynecology Clinic staff with Terrance Hines (far right) at the Halloween party
Healthyhorns staff celebrated Halloween on Oct. 31 with our first in-person Halloween party since Fall 2019. The party was a long-time departmental tradition before the COVID-19 pandemic.
The Residence Life leadership team met to discuss goals and priorities to further the department's mission to foster inclusive environments that support, educate and engage students on Oct. 3.
The team joined in on the National Hispanic Heritage Month fun by supporting the Hispanic Faculty/Staff Association's Longhorn Fiesta on Oct. 14. The celebration brought live performers, dancing and music to the Main Mall with Forty Acres Catering provide the delicious cuisine. See the action.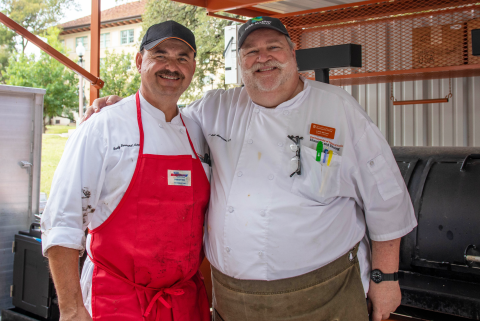 Rudy Bernard and Keith Morrison (University Housing and Dining) at Northside Bash
The Student Learning, Development and Engagement programming team hosted a variety of events in October, from intimate craft nights to two celebrations: Northside Bash and Burnt Orange and Queer. They also invited residents to connect with faculty in activities related to their hobbies, academic focus or college affiliation at four different events in October. Our dining staff animated our dining halls with four unique events: a dinner featuring cuisine from different island nations (Oct. 26) and three interactive fall-themed events.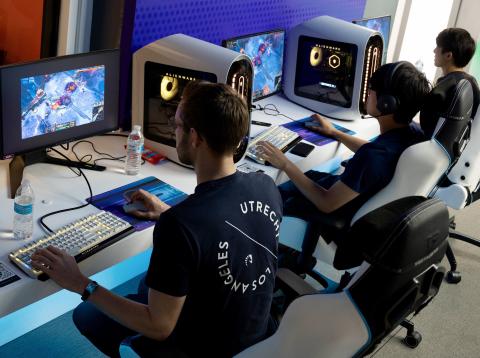 The Alienware Longhorn Esports Lounge in the Texas Union
The Alienware Longhorn Esports Lounge coordinator found his dream job managing the space which is now open daily starting at noon. Hear from Austin Espinoza and a student leader about how the space is helping students explore the exciting world of gaming.
Our Campus Events+Entertainment staff supported student programming at several events in October including the Sundown Hoedown (featuring The Derailers, an iconic Austin band with a 30-year history), blAACC Fest, Try Culture and celebrity speaker Jackie Cruz.
Vice President for Student Affairs

New Staff with Senior Team members at New Student Welcome
New Staff Welcome introduced new Division of Student Affairs team members to how they'll be influencing the Longhorn life on Oct. 26 and Nov. 2. Our Development team hosted Dinner with 16 Longhorns on Oct. 26 and is gearing up for the final event of the fall term on Nov. 30.
On social media, a new "Did You Know?" series is educating students about campus resources. The university honored six service-based student organizations – meet the students living the Longhorn life and changing the world.
Get ready to wrap up the fall term with a celebration for all Division staff! Make plans to attend our Division Holiday Gathering on Dec. 7, 9 a.m.-Noon., Multipurpose Room, San Jacinto Residence Hall.
Standouts
Celena Mondie-Milner, Vice President for Student Affairs, gave welcome remarks at the Office of Admissions' Texas Select Fly-In programs on Oct. 28.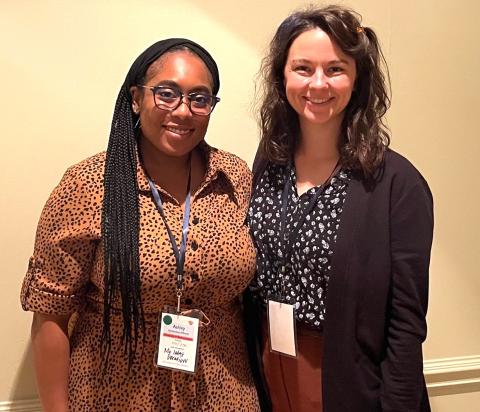 Ashley Richardson-Minnitt and Katharine Sucher (New Student Services)
Ashley Richardson-Minnitt and Katharine Sucher, New Student Services, presented "Nothing About Us, Cultivating Neurodivergent Leaders on Campus" at the College Autism Summit. 
The Texas Association of College and University Student Personnel Administrators (TACUSPA) 2022 Conference took place at the AT&T Conference Center on Oct. 24-26. The Division staff who presented are listed below.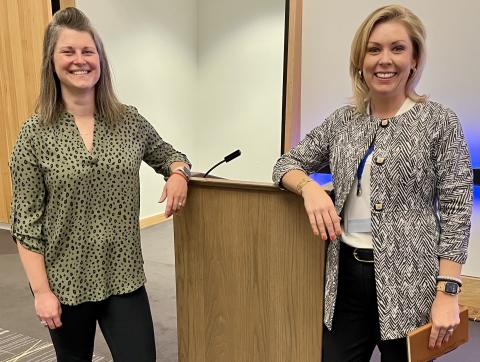 Kelly Soucy and Katie McGee (Office of the Dean of Students)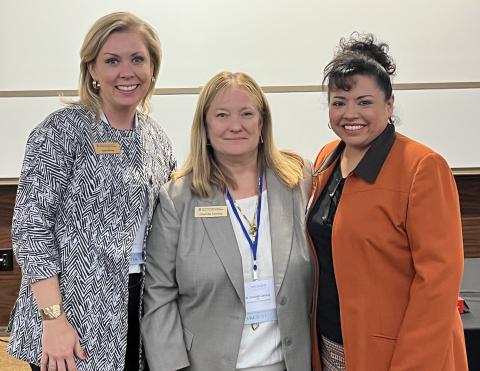 Katie McGee (Office of the Dean of Students) and Charlotte Canning and Carol Longoria (Vice President for Student Affairs Office)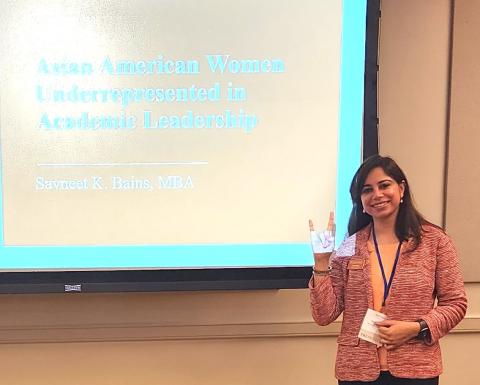 Savneet Bains (University Housing and Dining)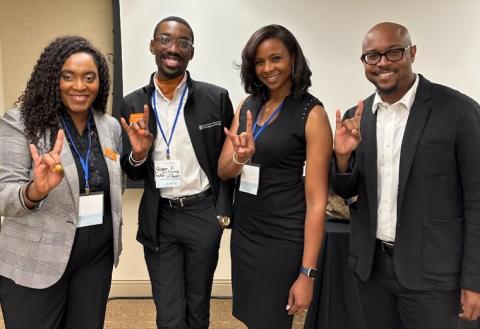 Paige Hicks, Gerard Smithwrick, Delcenia Collins and Brandon Jones (University Housing and Dining)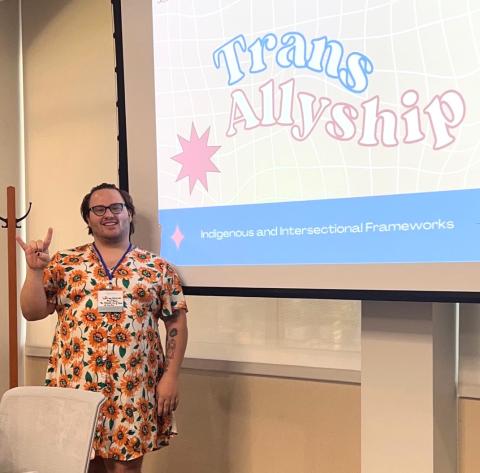 Joffrey Niessen (University Housing and Dining)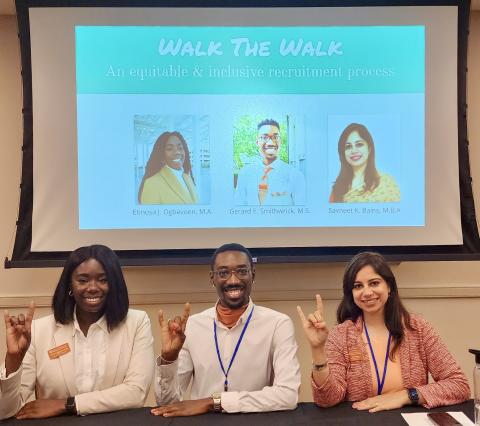 Etinosa Ogbevoen, Gerard Smithwrick and Savneet Bains (University Housing and Dining)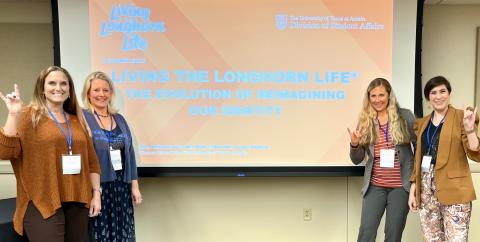 Heather Miller, Brooke Bulow, Jess Cybulski and Alma Garcia (Vice President for Student Affairs Office)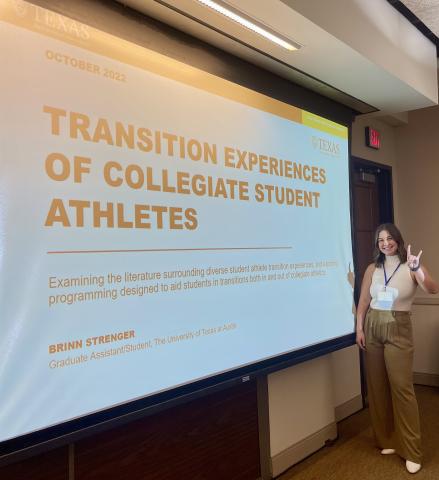 Brinn Strenger (Vice President for Student Affairs)
Newsletter Archive
The Influencing the Longhorn Life Staff Newsletter is distributed via email to Division of Student Affairs staff. View newsletters from August 2017-present. Take a look at archived content from August 2012-August 2017.