September 2023
Published: Sept. 20, 2023
Our vast range of intentionally-designed programs, spaces and resources provide opportunities that help clear the path to our student's graduation and future success. As the hub of student life and well-being, we lead the way in creating and offering transformative opportunities and communities for every student — undergraduate, graduate and professional. Our enterprising and creative approach helps us maximize the Longhorn experience by providing enriched, rewarding and fun possibilities. Read below how we are influencing students in living the Longhorn life this new academic year through our core functions of partnerships, student support and well-being.
Partnerships
VP Lilly and Executive VP and Provost Sharon Wood recently collaborated on three joint messages. On Sept. 6, they launched the University's new Honor Code to studentsand faculty/staff. On Sept. 14, their joint message to all faculty focused on partnership and shared goals in supporting our students' academic journey, highlighting some Division resources for student mental health concerns, emergencies and conduct issues.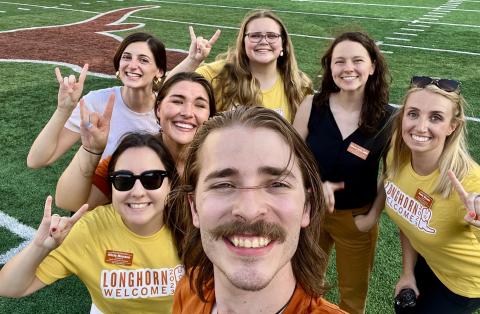 New Student Services coordinated the annual campus-wide effort to inspire a sense of belonging among new and returning students, helping them start living the Longhorn life. Longhorn Welcome brought dozens of campus partners together for 13 Signature Events and more than 50 other events – a 37% increase in campus events from 2022. The Counseling and Mental Health Center and University Health Services, Dean of Students office, Recreational Sports and University Unions hosted signature events. The official Class of 2027 photo is the largest on record with 3,000 students in attendance. 
Expanding on a well-established partnership with colleges, schools and units, the Counseling and Mental Health Center added a new Counselor in Academic Residence (CARE). This counselor is dedicated to UT for Me – a program in the Undergraduate College to serve Pell-eligible students.
The Office of the Dean of Students is responding to recent trends involving generative artificial intelligence tools and ChatGPT through a collaboration with the Center for Teaching and Learning. The team has also expanded faculty resources on academic integrity and classroom management. 
The SHIFT team is now leading Operation Naloxone, a campus-wide partnership to educate students, faculty and staff on naloxone, a medication that reverses an opioid overdose. This enhanced partnership with the College of Pharmacy adds two additional non-emergency naloxone distribution sites on campus.
Celebrating the 25th year of an annual back-to-school campus tradition, Recreational Sports hosted Party on the Plaza, presented by American Campus Communities, on Aug. 30. Over 29,230 students participated in the event featuring 300+ student organizations, 20+ campus resources and the popular Scholarship Shootout presented by University Federal Credit Union.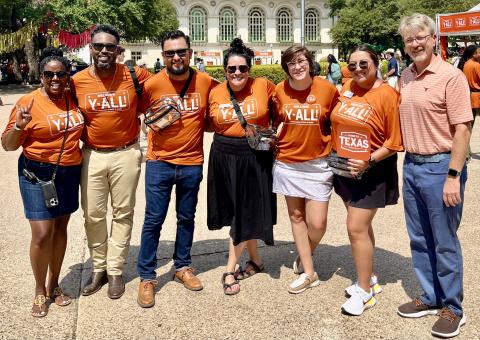 Texas Parents renewed their partnership with Texas Exes to reboot the Mooov-In Mixer for 200 new parents, following a hiatus due to the COVID-19 pandemic. Vice President for Student Affairs and Dean of Students Soncia Reagins-Lilly attended to meet new parents, and Senior Vice President and Chief Operating Officer Jim Davis gave an update on the West Campus Ambassadors program. 
The Vice President for Student Affairs office partnered with the Office of the President to support the first-ever President's Pop-up on the first day of class. They recruited Division staff members to volunteer to hand out ice cream, popsicles, sunscreen and stickers. Division communicators also promoted the event directly to students and on social media. 
Student Support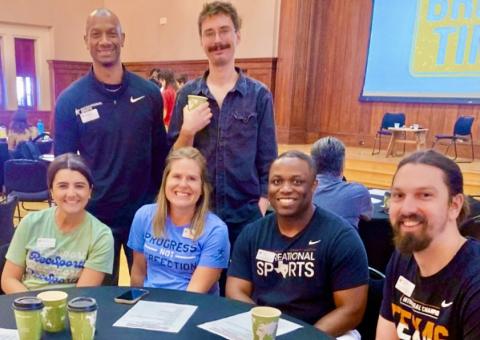 Combining forces to support students, the Counseling and Mental Health Center, University Health Services and Recreational Sports celebrated their first joint organizational day on Aug. 17.
The New Student Services team led the way in getting more than 11,000 freshmen and transfer students into the Longhorn State of Mind during New Student Orientation this summer. They collaborated across campus to help these new Longhorns transition to University life while also supporting nearly 9,300 family members who attended Family Orientation. 
More students than ever gained professional experience that will help set them up for a successful career and life through the Summer Internship Program. The Dean of Students team wrapped up the 10-week program on Aug. 5, celebrating 168 interns who completed 32,000 hours of work, with support from 117 on-campus supervisors.
Dean of Students staff is helping shape the personal leadership development of students through the fifth year of CoachUT. Participating students work one-on-one with a professional leadership coach over the course of the term to identify their goals and help set them up for success in their career and life.
During RecSports annual all-staff training Aug. 19-20, about 375 student employees learned tasks related to performing their jobs, interacted with professional staff through sports activities and learned how the department is a center of campus life. The team also partnered with the Counseling and Mental Health Center, Texas LEAD and Division of Diversity and Community Engagement to provide educational sessions.
Increasing convenience for students, faculty and staff, University Unions added an Amazon Locker in the Texas Union on the main level near the Cactus Café. There is also an Amazon Hub Locker+ located in Gregory Gym. 
Well-being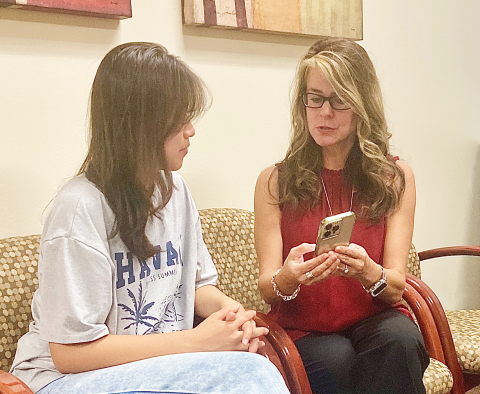 Counseling and Mental Health Center experts led the rollout of a new program that offers 24/7 free, virtual mental health support to students at all 14 UT System institutions. The system-wide collaboration to implement TimelyCare builds on UT Austin's existing mental health and well-being resources. 
In an email to all students, VP Lilly shared this new health and well-being resource as well as others that support students in their times of need.
Recreational Sports created a brand-new functional training experience in the basement level of Gregory Gym. The space features two racks of functional training equipment aimed to help participants improve activities of daily living, increase lean muscle mass, decrease chance of injury and increase coordination, agility and balance. The space is open to all students and RecSports members on a drop-in basis.
University Health Services' Allergy Immunization and Travel Health team immunized more than 700 international students to fulfill Fall 2023 immunization and medical clearance requirements. This annual initiative helps safeguard the health of all students, as immunization standards and accessibility can differ across countries. This year's clinic was one of the largest to date. 
Leading the way in the University's drug abuse prevention efforts, SHIFT and the Center for Students in Recovery hosted events on International Overdose Awareness Day on Aug. 31. They brought campus partners together for a resource fair in the morning and a naloxone training in the afternoon.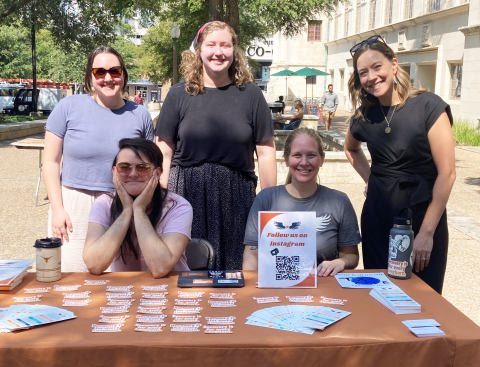 SHIFT is forging new partnerships with its SHIFT Makers, a team of students who serve zero-proof cocktails at campus events. Chi Omega, Texas Athletics and the Undergraduate College hired them for events in August, serving more than 700 Longhorns.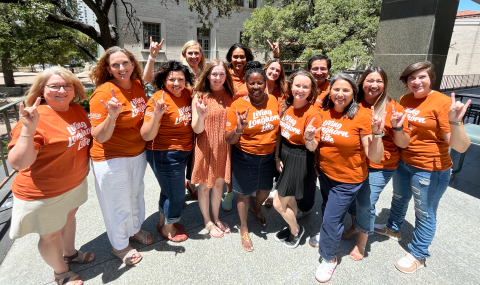 As a fun way to gear up for the new academic year, Vice President for Student Affairs office staff participated in a team-building activity to design food trucks at the annual retreat.  
The Vice President for Student Affairs events team developed a new strategy for Dinner with 16 Longhorns to better meets students' needs and schedules. Instead of having one event per month during the fall term, the team is hosting all four dinners in September.