How We Are Influencing the Longhorn Life
Our Division of Student Affairs team is headed into springtime — maximizing the Longhorn experience, helping students find their communities, develop career skills, take care of their minds and bodies, and have some fun! Take a look at the examples below to see how our work supports our five strategic priorities. 
---
Maximizing the Longhorn Experience
New Student Services is helping College of Education students build skills to help them in their future careers as educators. The Longhorn TIES (Transition, Inclusion, Empower, Success) Neurodiversity Support program launched the College Success Group where College of Education peer educators lead meetings on various topics. The first of two meetings for the term was on Feb. 15.  
To help students connect with nearly 150 student organizations, the Office of the Dean of Students partnered with University Unions to host the Spring Student Organization Fair on Feb. 8.  
 Marilyn Russell and Valeria Martin (Office of the Dean of Students) at Cirque du Soleil at the Moody Center
Office of the Dean of Students staff also supported the student winners of the Cirque de Soleil giveaway hosted by President Jay Hartzell and Athletics Director Chris Del Conte by attending the performance alongside the student winners. 
The Office of the Dean of Students received over 2,800 applications from 891 students for 200 positions in the 2023 Summer Internship Program. Staff worked quickly to meet this increased demand – last summer, there were 45 positions in Division departments. This summer, interns will work in a variety of roles across campus, May 30-Aug. 4. 
Recreational Sports launched U Move, a program that unites eight select student organizations with all students across campus to celebrate the diversity of movement, and to ignite the love of sport across the entire campus community. Through this partnership with Nike, students who are participating earn rewards by completing weekly challenges and logging their movements through the U Move portal.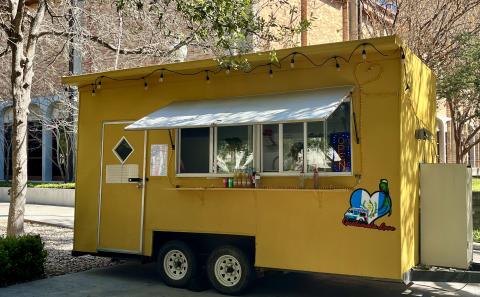 Guatemala Love food truck near Gregory Gym
There are new dining options on campus thanks to University Housing and Dining (UHD) and University Unions. The UHD-operated food trailer at 21st and Speedway (near Jester) now features tacos, ramen, and vegan/vegetarian options. Guatemala Love is the ninth food truck joining the schedule operating out of the food truck spot by Gregory Gym. 
University Housing and Dining's Faculty Connections program is hosting several events for on-campus residents to learn and discover outside the classroom. These informal meetup events help students connect with faculty on shared hobbies, interests or college affiliation.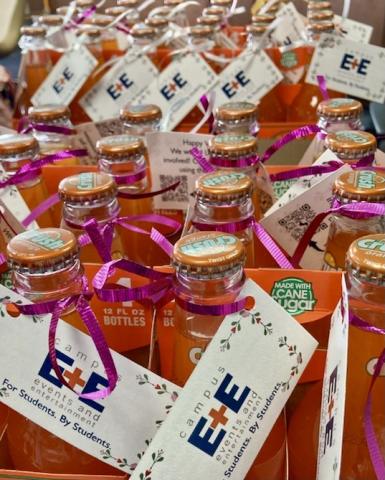 Campus Events+Entertainment Crushgrams
Marking 10 years of a Valentine's Day campus tradition, University Unions Campus Events+Entertainment distributed an all-time record of 3,800 Crushgrams – a bottle of orange Crush Soda with a note for a special someone. 
Health and Wellness
The Center for Students in Recovery, Counseling and Mental Health Center and Longhorn Wellness Center are hosting mindfulness programs and outreach events for students at the McCombs Wellness Center.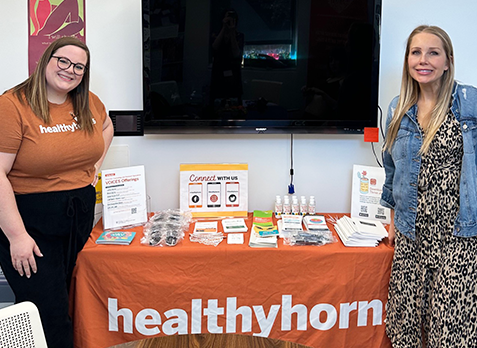 Erin Garcia and Laura Kinch (Counseling and Mental Health Center and University Health Services) at the Meet Healthyhorns event on Feb. 27
In a new series of outreach events called Meet Healthyhorns, the Counseling and Mental Health Center and University Health Services team is sharing information about programs and services at colleges, schools, and units across campus. They have hosted five tabling events so far and have four more planned this term.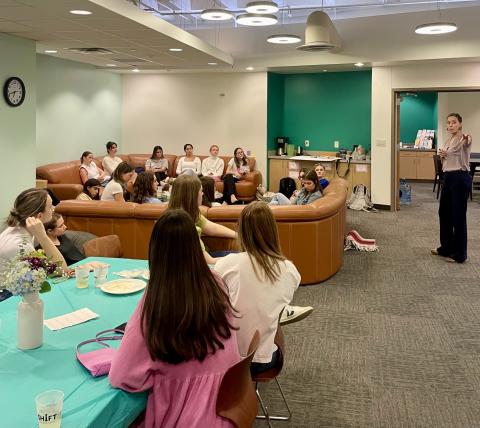 Kate Lower (SHIFT) presenting to a group of University Panhellenic Council student leaders at the Center for Students in Recovery.
Staff in the Office of the Dean of Students, Center for Students in Recovery, SHIFT and Longhorn Wellness Center collaborated with student leaders to support risk management and harm reduction ahead of WestFest (formerly Round Up). They helped lead more than 20 "West Fest Ready Workshops" to create a culture of safety and care at this student-organized event. 
With more students joining the SHIFT Makers team, departments have more opportunities to hire them to serve zero-proof cocktails for events and programs.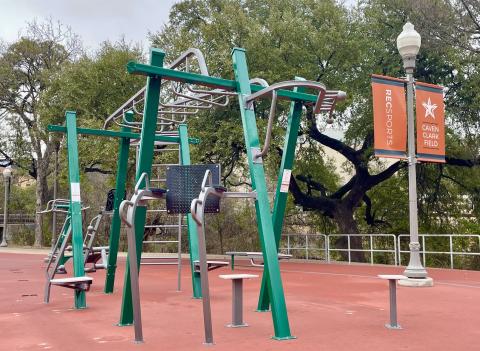 New workout equipment at Caven-Clark Field
Thanks to funding from the Student Services Budget Committee, RecSports has installed new outdoor fitness equipment at Caven-Clark Field for students and RecSports members. The new equipment includes a THRIVE 450 Outdoor Gym that can accommodate up to 10 participants, a lat pull down and chest press, both of which are accessible and accommodate most mobility devices. The equipment offers variable training options for beginner to advanced users. 
RecSports is hosting its first RecSports Recess of the spring term on Thursday, March 2, 2-5 p.m. on Gregory Gym Plaza, featuring a variety of childhood-inspired games. This series of pop-up events encourages students to make time for play and connects them to RecSports facilities and programs. 
Diversity, Equity and Inclusion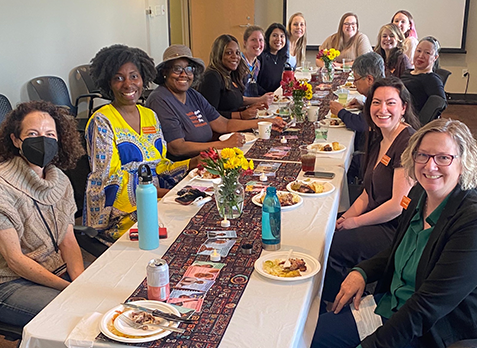 Counseling and Mental Health Center and University Health Services staff at the Black History Month lunch
In honor of Black History Month, the Off-Campus Initiative took students on an aUsTinite Adventures trip to the George Washington Carver Museum to learn more about African American history in Austin. Counseling and Mental Health Center and University Health Services staff enjoyed lunch from Bikkle, a local Jamaican restaurant, sweet treats, music, decorations, activities and community building. Lastly, University Housing and Dining brought the campus community together for the month's grand finale celebration: Black History Month Cookout.
The Longhorn Wellness Center hosted Black Boy Joy to talk about black men and mental health with the Heman Sweatt Center for Black Males and Episcopal Student Center.
Talent Investment and Staff Support
The Assessment, Data Analytics & Planning Team (ADAPT) launched a Canvas Resource Hub that provides asynchronous professional development and educational opportunities to support staff and students in gathering, analyzing and reporting data on how the Division influences the Longhorn Life. 
Technology and Resource Management
The Center for Students in Recovery enhanced their space in Bellmont Hall to better serve their student community. They created two new private offices that students can use for therapy and online recovery meetings.
A new phone system through Amazon Connect is helping Counseling and Mental Health Center and University Health Services billing and insurance staff manage incoming calls through a queue system feature. 
HornsLink now automatically generates a QR (quick response) code for events listed on the platform to help track attendance. This builds on the previous functionality that allowed event organizers to select the option to create the code. For help setting up a HornsLink page, email Student Activities in the Office of the Dean of Students. 
RecSports has worked on implementing a more convenient way for students and members to request access to try TeXercise classes before purchasing a pass. Students and members can now request up to five free class tickets per term on their website and classes will be automatically uploaded to their My RecSports account for use. 
Division Influencers
Our "influencers" are team members who are recognized as innovators and thought leaders, making a positive difference with campus colleagues, institutional peers, families, alumni, supporters and others. Their work positively influences our students as they are living the Longhorn life.  
---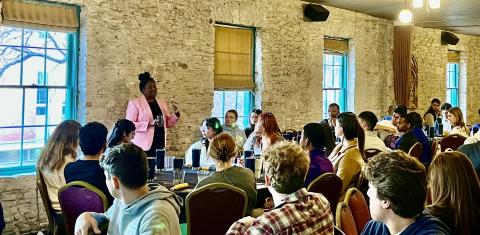 Soncia Reagins-Lilly speaks to students at the Elevate Sorority and Fraternity Chapter President's Dinner.
Vice President for Student Affairs and Dean of Students Soncia Reagins-Lilly joined more than 60 sorority and fraternity student leaders at the Office of the Dean of Student's Elevate Sorority and Fraternity Chapter President's Dinner. Her welcome remarks encouraged students to harness their leadership skills and stay connected to campus resources.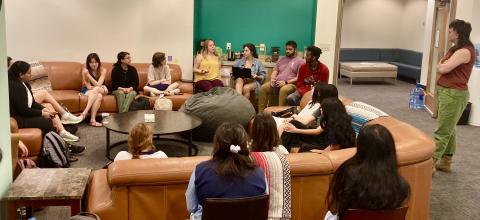 Mental health peer leader class presentation in the Center for Students in Recovery
Lilly Ettinger (Center for Students in Recovery) presented on collegiate recovery programs during the SAFEProject (Stop the Addiction Fatality Epidemic) Collegiate Recovery Leadership Academy webinar series. This leadership academy is an academic year-long fellowship program for students who are passionate about the intersection of collegiate recovery, leadership, and advocacy. Ettinger and Richie King presented to students in a School of Social Work class and mental health peer educators in the pear leader class.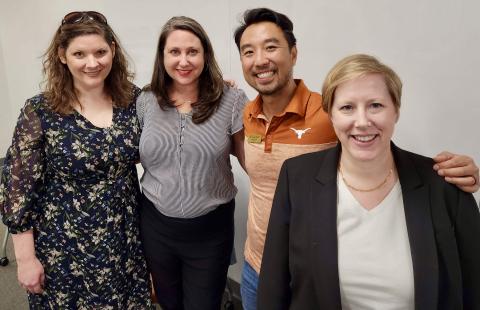 Panelists Virginia Luehrsen (Office of the Dean of Students), Karen Gross (Citizen Discourse), Kouang Chan (Office of the University Ombuds) with moderator Bethany Wendler (Office of the Dean of Students)
Virginia Luehrsen and Bethany Wendler (Office of the Dean of Students) participated in the Texas Career Engagement's Essential Skills Panel: "Productive Teamwork Through Effective Conflict Management." Wendler served as moderator and Luehrsen as a panelist. 
Ashley Richardson-Minnitt and Katharine Sucher (New Student Services) presented to Austin Independent School District staff about creating an inclusive learning environment for neurodivergent students. 
Kayleigh Spaulding (Counseling and Mental Health Center/University Health Services) served as a panelist for the Texas Career Engagement's Essential Skills Panel: "Healthcare Career Paths: No Med School Required."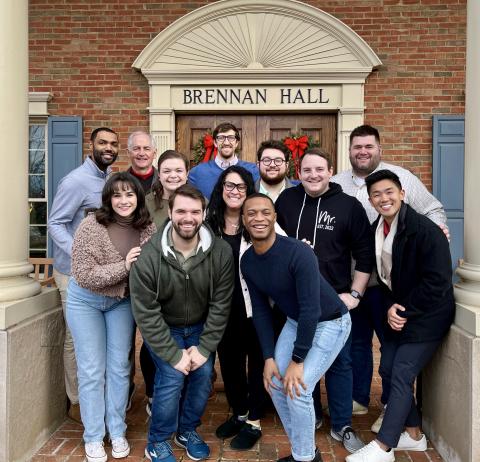 Jennifer Zamora (second row, second from left) at the Wooden Leadership Institute
Jennifer Zamora (University Unions) served as lead facilitator for Beta Theta Pi Fraternity's Wooden Leadership Institute. 
Newsletter Archive
The Influencing the Longhorn Life Staff Newsletter is distributed via email to Division of Student Affairs staff. View newsletters from August 2017-present. Take a look at archived content from August 2012-August 2017.