Published:
November 1, 2022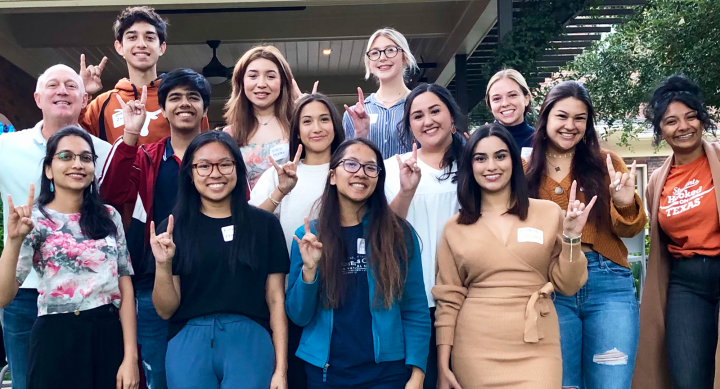 Students at the Oct. 26 Dinner with 16 Longhorns hosted by UT Austin Alum Bill Frisbie (far left, second row)
By Alma Garcia
The new academic year brings new opportunities for our development team to reconnect with staff, alumni, donors, supporters and friends. We've had successful fundraising efforts, several great events and programs, and look forward to more next month and in 2023!
40 Hours for the Forty Acres
Many Division of Student Affairs departments joined this online fundraising campaign on Sept. 28-29. Our Division had the highest number of total donors (5,980) and total number of gifts (21,871) across the university, raising a total of $819,375. Congratulations to everyone who worked hard on this campaign!
Dinner with 16 Longhorns
We hosted this community-building event in August, September and October. The final event of the fall term will be on Nov. 30. Dozens of students have participated and given great feedback on their experiences.
Bevo Buddy!
Our team supported New Student Services to launch this new program in September. The program pairs a UT student leader with an incoming freshman to provide the student with opportunities and experiences you only experience with a buddy. The interest is terrific with 415 buddies and 82 leaders. The inaugural year has been off to a fantastic start!
Alumni Engagement
Shout out to some of our teams working hard to engage their alumni. Sorority and Fraternity Life in the Office of the Dean of Students hosted their second Texas Greeks Alumni Social Hour on Oct. 20. Recreational Sports held their annual Hall of Honor Awards Cocktail event on Oct. 29. Recreational Sports inducted three groups and 11 individuals into the 2022 Recreational Sports Hall of Honor. The honorees included Tom Dison, the former senior associate vice president and director of Recreational Sports who recently retired after 48 years with the university. Congratulations to Tom and all the inductees!
Staff Celebration
Please join your colleagues at the Division of Student Affairs Holiday Gathering on Dec. 7, 9 a.m.-12 p.m. in the San Jacinto Multipurpose Room. Celebrate a great fall term by visiting our gingerbread wonderland and enjoying hot cider, holiday treats, photo opportunities and seasonal fun!
If you have any questions or want to learn more about what the Development team is up to, please email me.