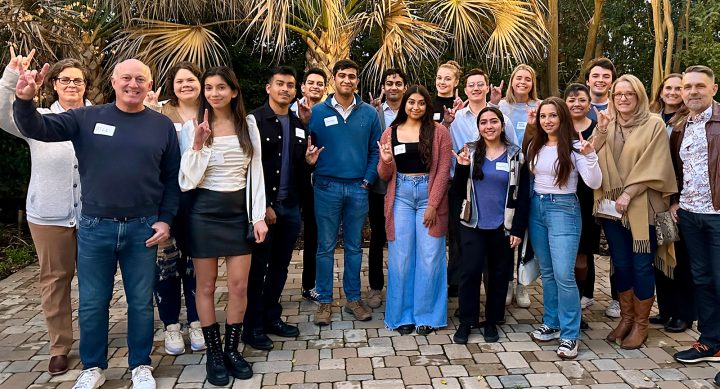 Dinner with 16 Longhorns in February 2023
By Heather Miller, Director of Development
The proverb "it takes a village" is a familiar phrase and referenced frequently by parents. As I reflect on what that means in our work, I see the parallel to the roles each of us have in influencing the Longhorn life. After all, the Division of Student Affairs is about supporting the "whole" student, and we are the village or the community that will support their success and positively impact their academic journey.
Our Longhorn Family Leadership Council is an extension of that community. This council is a dynamic team of parents and alumni who lend their philanthropic and professional expertise to support students in Living the Longhorn Life. They volunteer, engage and invest philanthropic resources to support our work. They are advocates for UT Austin and Division programs and services, but most importantly, for ALL students.
In 2017, we founded the council with a group of parents, and at the beginning of the 2022-2023 academic year, we expanded our membership to include alumni. The expanded membership allows us to invite more passionate individuals who want to influence the Longhorn life to engage with the people and programs that support the health and well-being of ALL students.
With this growing council community comes more support of our Dinner with 16 Longhorns program. Council members serve as dinner hosts, opening up their homes and participating as program facilitators. This level of engagement with students is what makes our council special and unique from other advisory councils across campus. The council's involvement complements our work and helps us influence the Longhorn life.
You can find out more about the Longhorn Family Leadership Council here. If you have suggestions of ways the council could connect to and support your programs, please email me.
Thank you again for influencing the Longhorn life each and every day!