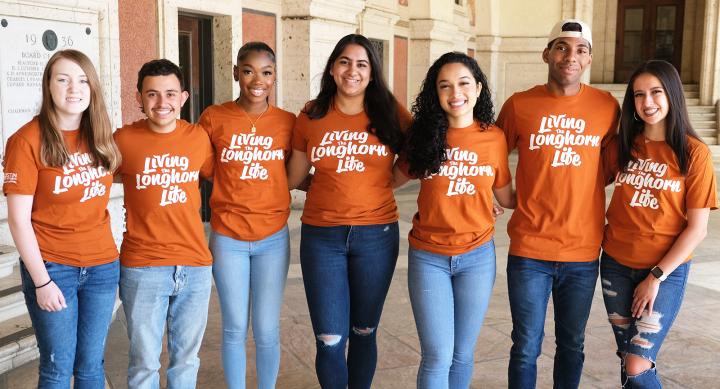 Tell your friends and family to head over to the University Co-op where our Living the Longhorn Life® branded gear is now on sale! You'll be able to buy Living the Longhorn Life t-shirts, mugs, umbrellas and socks to support the Division of Student Affairs NOW Fund.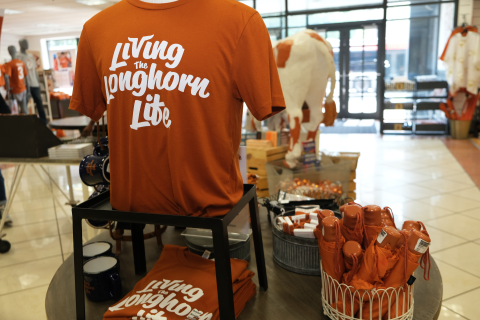 Our Living the Longhorn Life merchandise table at the University Co-op
Founded in 1896, the Co-op has a long, rich history of impacting the student experience and is a destination for incoming and current students, faculty, staff, alumni, donors and supporters to pick up Longhorn gear and academic supplies. This partnership supports our Division of Student Affairs development goals by raising the visibility of the NOW Fund which provides funding to programs that enrich the student experience.
Vice President for Student Affairs Soncia Reagins-Lilly created the NOW Fund in 2018. This fund supports student success programs, experiential learning opportunities and student well-being. Proceeds for every Living the Longhorn Life item purchased will go to the NOW Fund to help address urgent needs for students or support student engagement programs like Dinner with 16 Longhorns.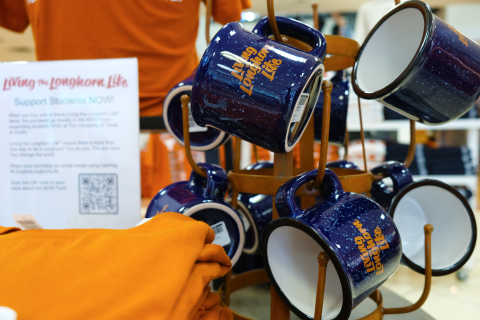 Our Living the Longhorn Life merchandise table at the University Co-op
"To us, Living the Longhorn Life means: you do you, you are here, you change the world. It is a statement that you have arrived — that you belong here. I'm thrilled to see this partnership with the University Co-op carry forward this message and help raise funds for student success programs," said Reagins-Lilly.
Look out for our t-shirts and other items near the graduation merchandise on the first floor of the store. This summer, our table will be alongside the orientation merchandise.
After you make your purchase, show your Longhorn spirit and share what you bought on social media using hashtag #LivingtheLonghornLife. We know there's more than one way to be a Longhorn, and we can't wait to see what it means to you!