Published: Oct. 26, 2023
Our team has reached some major milestones this fall term creating new transformative, student-focused opportunities, launching intentionally-designed student spaces and sharing expertise on student support resources. Read how we are influencing all students — undergraduate, graduate and professional — as they're living the Longhorn life through our key functions: partnerships, student support and well-being.
Partnerships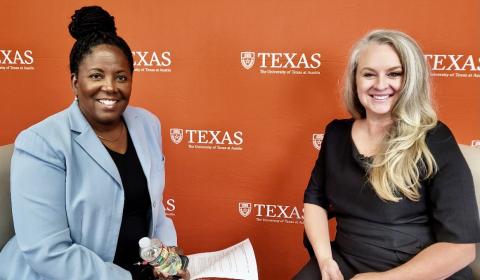 Vice President and Dean of Students Soncia Reagins-Lilly partnered with Vice President for Legal Affairs and General Counsel Amanda Cochran-McCall to discuss free speech on our campus in celebration of Free Speech Week. Watch the video produced by University Marketing and Communications and utilize the shorter video clips focused on specific topics as resources for students and others. 
Our Division team members, including those in the Office of the Dean of Students, Counseling and Mental Health Center, Texas Parents and Vice President for Student Affairs, are listening and responding to student needs and concerns related to the ongoing war in the Middle East. They continue to outreach to student organizations, coordinate with university partners, provide support resources and respond to questions and concerns from parents, families and others.
New Student Services, Living the Longhorn Life and University Unions amped up the Longhorn spirit for 600 students at a watch party for the Texas vs. Alabama football game on Sept. 9. See the crowd in these photos.
Our Dean of Students staff's expertise was central to the second annual Responding to Student Emergencies and Behavioral Conduct Symposium on Oct. 5. The half-day symposium brought together 100+ partners from 17 colleges/schools, and eight units and departments to discuss trends, practices and strategies for responding to emerging student needs and concerns, addressing students' personal emergencies and/or behavior concerns.
Two Recreational Sports leaders strengthened partnerships with national colleagues and developed new skills to maximize the Longhorn experience at recent conferences. Jennifer Speer attended the annual meeting of the Southeastern Conference University Recreation Directors' Retreat and Randall Ford participated in the Principles & Techniques of Fundraising conference. 
University Health Services and the Longhorn Wellness Center is partnering with the Dell Medical Center to offer second-year pediatric residents an educational opportunity that will better prepare them for their careers in primary care. These residents will be spending both clinical and didactic hours (structured classroom or lecture-based learning hours) at UHS as part of their fall curriculum.

Thanks to the University's longstanding partnership with Dell Technologies, University Unions opened the Alienware Longhorn Esports Arena with a ribbon-cutting event and press release. The 3,400 square-foot Arena is unlocking new learning opportunities, strengthening academic partnerships and complementing our students' academic pursuits. Hear the excitement in the latest episode of our Living the Longhorn Life podcast. 
University Unions hosted the U.S. Secretary of State Antony Blinken at Hogg Memorial Auditorium on Oct. 4, marking the reopening of the historic facility following a two-year renovation. The team partnered with University Marketing and Communications on this story about Hogg's history and press release. They are also celebrating Hogg's 90th anniversary with a series of events that include partnerships with University Events.
Student Support 
The first-ever Greek Day of Service brought together 300+ sorority and fraternity members who completed several projects at three elementary schools on Oct. 14. The Dean of Students' Sorority and Fraternity Life team supported this student-led initiative, helping them partner with the Center for Community Engagement on the inaugural event featured by local news.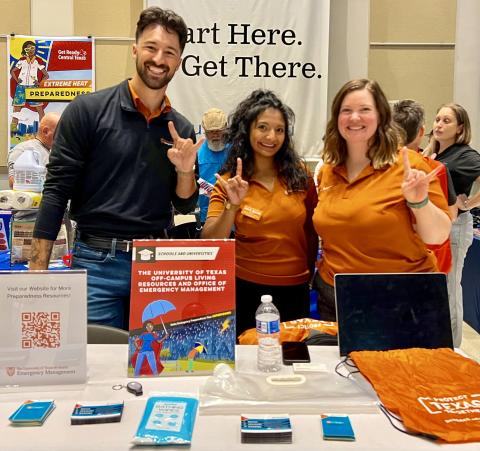 Through the Off-Campus Resources initiative, Dean of Students staff helped students build life skills around emergency preparedness at the Get Ready Central Texas Emergency Preparedness Fair on Sept. 22. They teamed up with the Office of Emergency Management to participate in the event. 
New Student Services' Longhorn TIES team hosted the first Neurodiversity Affirming Training on UTLearn on Oct. 5. They shared campus and community resources as well as tips for supporting neurodivergent students to 85 faculty, staff and students.
Providing more support to students, meeting them where they are, University Health Services and RecSports collaborated on the first-ever UHS Outreach Clinic in Gregory Gym. This clinic offers sexually-transmitted infections (STI) testing and nurse triage visits, and students can either schedule appointments or receive walk-in care.
Well-being
Counseling and Mental Health Center, University Health Services and Longhorn Wellness Center staff celebrated history and culture during National Hispanic Heritage Month. This annual observance served as a team-building activity that enhanced our staff's well-being.
The Longhorn Wellness Center presented the first annual Mindfulness Summit at the Blanton Museum of Art. The program included mindfulness-based activities, an interactive choose-your-own mindful adventure and a community picnic for 200 participants. 
Students and RecSports members now have a new way to unwind and recharge with two Human Touch Novo XT Massage Chairs at the Recreational Sports Center. The chairs feature five intensity settings and three deep tissue massage programs designed to soothe, stretch and rejuvenate. Use of the chairs is free of charge and available on a drop-in basis.
RecSports introduced Health Coaching that supports students' well-being by helping them make health-behavior changes. Certified Health Coaches work one-on-one with students to develop achievable and measurable goals and help them increase their internal motivation and ownership as well as their self-accountability.
RecSports encouraged students to fuel their well-being through outdoor activities at the RecSports Recess: S'mores & More pop-up event held on Oct. 18. Our Outdoor Center experts talked with students about available outdoor rental gear and favorite area destinations.
University Health Services partnered with UT System to launch the National College Health Assessment (NCHA) with an email from VP Lilly to all students. UHS has administered this comprehensive survey about student health behaviors, mental and physical health conditions, and risk and protective factors almost every other year since 2006. This fall, 217,000+ students system-wide received the survey. 
To help reduce the class and work disruptions caused by the flu, University Health Services administered more than 4,000 flu vaccines during the annual flu shot campaign. Today is the last day to get your flu shot on main campus and there is a clinic tomorrow at J.J. Pickle Research Campus.
The Fall 2023 updated COVID-19 vaccine is now available at University Health Services for all students, faculty and staff. This is by appointment only and availability is limited.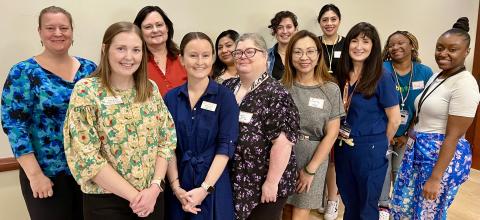 Our Division's administrative staff help power our teams that provide direct student support and resources. To recognize their efforts with a professional development opportunity, Vice President for Student Affairs hosted the Division Admins Group meeting on Oct. 24 with guest speaker Keri Stephens (Moody College of Communication). 
Due to increased interest from students in the Dinner with 16 Longhorns program, the Vice President for Student Affairs development team hosted an additional dinner on Oct. 23. They partnered with donors and alumni to hold four dinners in September. They also hosted two salon dinners for small groups of donors in New Orleans (Sept. 20) and Austin (Oct. 18).